Launch a community with free or paid member access
5 minutes to install on any website platform.
Add a member-only community to your website with paid or free access. Works on any platform including WordPress, Squarespace, Wix and more. Set up your community now. It's free to use.
Add a fully functional community with paid or free membership or subscription access.
Create free or paid plans and let members on different plans access various parts of your community. It's super easy to setup. 
Lock specific web pages or groups of web pages on your website, and MemberSpace will automatically unlock those pages for your new members.
Connect MemberSpace to an existing or new Stripe account and get paid as soon as your first member signs up.
Read real customer reviews about MemberSpace.
The tutorials are outstanding. The written step-by-step plans are accurate. Just everything is so easy to use!
You can use it with a whole bunch of different platforms, pretty much everything is customizable, the pricing is super reasonable, and the customer service is through the roof.
MemberSpace is reliable, and help is always there when needed.
We needed a comprehensive solution for our site on Squarespace to have members be able to log in and access membership materials. This platform is everything we needed and integrates with so many other tools!
I've only been using MemberSpace for about a month and the customer service is unbelievable. I've never had such quick and useful information via email from a provider in my life!
Software is super easy to install and comes with a ton of features that allow you to customize it to your site. The tutorials are helpful, and the customer service is OUTSTANDING!
It's free. No credit card required.
Our software provides everything you need to launch, build and grow your membership business on any platform. Below is a list of our features and integrations.
You shouldn't need to hire a developer or have technical skills to build and run a membership site. MemberSpace is a simple solution for non-technical people.
Your website, any platform.
MemberSpace works with all popular website builders. Add MemberSpace directly to your site, and easily move to a different website platform without impacting your members or billing details.
See the website platforms we integrate with.
Customer service is our top priority.
Our success truly comes from providing great customer support. You can talk with us via live chat or email (under an hour response). But don't just take our word for it, read our excellent
Trustpilot, Capterra,
and
other MemberSpace reviews
.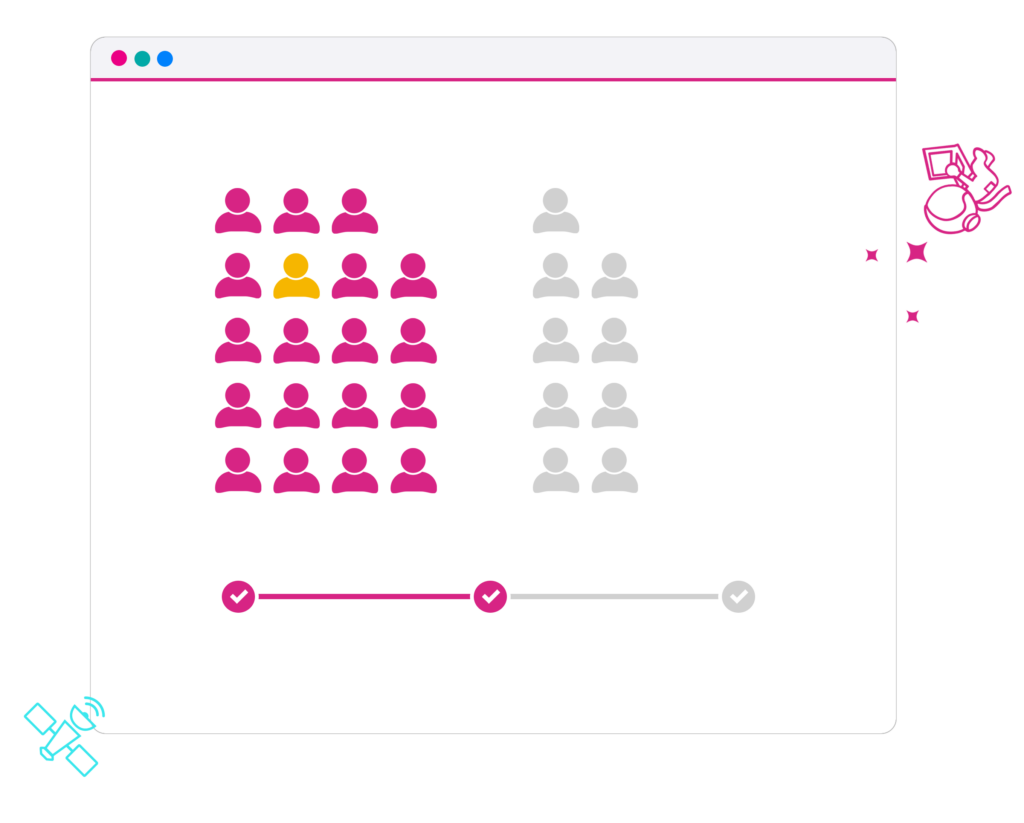 Migrating your membership to different software can seem like a daunting task. We make it easy, simple, and painless. So if you have an existing membership system, we'll help you migrate to MemberSpace for free. Learn more about migrating to MemberSpace.
Launch a Paid Member's only Community Site with Circle and MemberSpace
As you begin building your membership business, you'll find that you start to attract a community of engaged and excited people, all interested in what you have to offer. It's only natural that as your audience grows, they'll want to interact with you (and each other) more.
A paid community is the perfect opportunity to expand your membership business, grow your brand, and develop relationships better than you can on social media.
Why Create a Paid Community?
Membership communities can exist on their own or be paired with another offering, such as a content library or paid newsletter. You don't have to create a product to build your first community, though! Anyone can create a paid community that's built around discussion between people with similar interests. You could create a paid community for:
Creative professionals to network and share leads
Startup founders or aspiring entrepreneurs
Parents in need of communication and support
Educators interested in sharing resources and tips
Fans of a particular sport, music group, artist, author
Anyone or anything that attracts interest
How to Create a Membership Community
To start your first membership community, you'll need:
A website to advertise the community and membership plans
A mission or guidelines for your community — what type of content should people be sharing? What kind of community do you want to foster?
A way to process recurring membership payments
A platform on which to host discussions and allow the community to congregate
While there are several ways to facilitate discussion between community members, we recommend Circle. Together, MemberSpace and Circle make it easy to create exactly the kind of community you've always wanted to join — a place for people to chat and get advice from an expert…you!
Why Build Your Community with Circle?
Circle takes the best parts of online forums and Facebook groups, blending them into a platform that's private and exclusive to your members. When you organize your community through Circle, members can access your content through their browsers or via Circle's iOS application. It gives you all the benefits of having a native app for your community, without any of the headache involved in developing it.
As the leader of a Circle community, you can:
Organize conversations into designated spaces (groups) by topic
Set up your community so that new members are automatically added to specific spaces when they join
Stream live sessions to the community
View statistics and see how members are interacting with your content
Customize your community space so that it matches your website and brand
Circle also supports direct messages, so you and your members can have engaging conversations outside of designated spaces.
Circle supports single sign-on (SSO) with MemberSpace — as soon as your members log into your website's member area, they're also logged into Circle!
Circle plans start at $39 per month and are charged separately from your MemberSpace subscription. 
Setting Up Your First Paid Community with Circle and MemberSpace
Before getting started, make sure that your website CMS works with MemberSpace.
Once you've confirmed that you are using a compatible platform, you'll need to:
Step One: Build a Membership Community Landing Page
Create a public landing page on your website. This page will display plan options with signup buttons:
Step Two: Begin Setting Up a Membership Plan
Click "Member Plans" at the top of your MemberSpace dashboard.
Now click the pink "Create Member Plans" button and choose a plan type from the drop-down menu. Paid communities typically charge members for access on a month-to-month basis, so we're going to select "recurring payment."
Give your plan a name and enter the price you'd like your members to pay every month.
Skip to the end and click "Create this Plan."
Step Three: Set Up Circle SSO
Log into your Circle account and click the settings icon in the top right. Next, click "Single Sign-On" and toggle on "Enable SSO."
Next, select MemberSpace in the OAuth Provider drop-down menu. Copy the callback URL that appears.
Go back to MemberSpace and click Customize at the top of the screen.
Click on "Integrations."
Click "Circle."
Paste the callback URL you copied in Circle and select which plans can access your paid community i.e. the plan(s) you just created earlier.
Click the pink "Integrate with Circle" button to continue.
Copy the Client ID, Secret Key, and MemberSpace URL one at a time, pasting them into the corresponding fields in Circle.
Go back to your Circle account settings and click "General." Toggle the "make this a private community" option on and click "save changes."
Go up to the top left on your Circle dashboard and click the icon that looks like two people.
Next, click "Invitation Links" in the sidebar and then "Create an Invitation Link." Copy the link that is generated. This is the link you'll use to bring new members to your private Circle community.
After you create the link you should use that wherever you link to your Circle community so that any members who click it will automatically be added to the Spaces you specified.
Step Four: Finalize Membership Plan Details
Go back to MemberSpace and click on "Member Plans" at the top.
Click "Edit Plan" next to the name of the membership plan you created above.
Scroll down to the section that starts with "After Sign Up." Paste the link to your Circle site in both the fields below.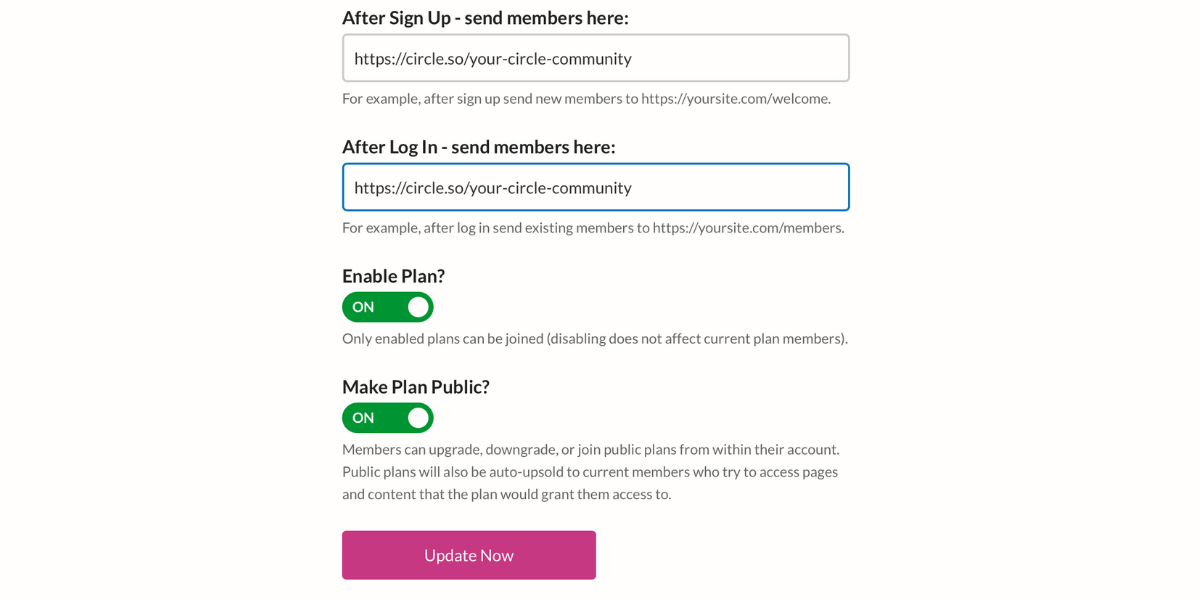 Make sure "Enable Plan" and "Make Plan Public" are toggled on and then click "Update Now."
After saving, click the gray "Get sign-up link" button next to your plan name.
Add the link to your public landing page so people can sign up to join your community!
If you'd like to offer members the option to pay one flat rate for annual access to the community, create another membership plan and set the billing period to one year.
Step Five: Test Your Paid Community Membership
It's a good idea to test your new community setup before officially launching. Make a free test plan or temporary 100% off coupon and use it to "join" your course. Once you've logged in to your website as a "member," visit your Circle community and make sure that the SSO connection is active — you should be automatically logged in.
Once you're satisfied with the setup, you can delete your test plan or coupon if you so choose.
You're now ready to begin enrolling new members in your community plan!
How to Build Your Paid Membership Community
If you've begun cultivating an audience online, you're already on the right path to developing a membership community.
Post about your private community on social media channels
Tease members-only livestreams by uploading a short preview video to Facebook or Instagram Stories
If you already have a free Facebook Group for your audience, offer the paid community as an alternative with perks and additional access to you
Invite your paid newsletter or private podcast members to upgrade for "office hours" and exclusive Q&A sessions
Upsell current and former online course students on your community for continued learning
Pair your community with access to a membership content library as an upgraded bundle for existing members
Starting a membership business for the very first time? Learn how to launch successfully with our step-by-step membership marketing plan guide!
You can promote your new membership community anywhere you can paste a URL — just share the link to your public landing page and watch your member count begin to grow.
Show us your new membership landing page on Twitter, Facebook, LinkedIn, or in the MemberSpace community. We'd love to see what you create!