Subscription businesses (i.e. membership businesses) have become increasingly popular in recent years, as they provide a steady source of recurring revenue for companies. Because this business model relies heavily on consistent income from customers, it's crucial for businesses to implement effective marketing strategies for customer acquisition and retention. However, growing and retaining a subscriber base can be challenging.
 In this blog post, we will be discussing 16 proven marketing strategies subscription businesses can use to drive revenue growth and build a loyal customer base. From creating valuable content to gathering useful customer feedback, we will explore various tactics that can help subscription businesses stand out in the crowded digital marketplace.
1. Webinars
Webinars are a productive way to educate potential customers about your product or service in a live, interactive way. During a webinar, you can provide valuable information on topics related to your product or service, answer frequently asked questions, and demonstrate the value of your business.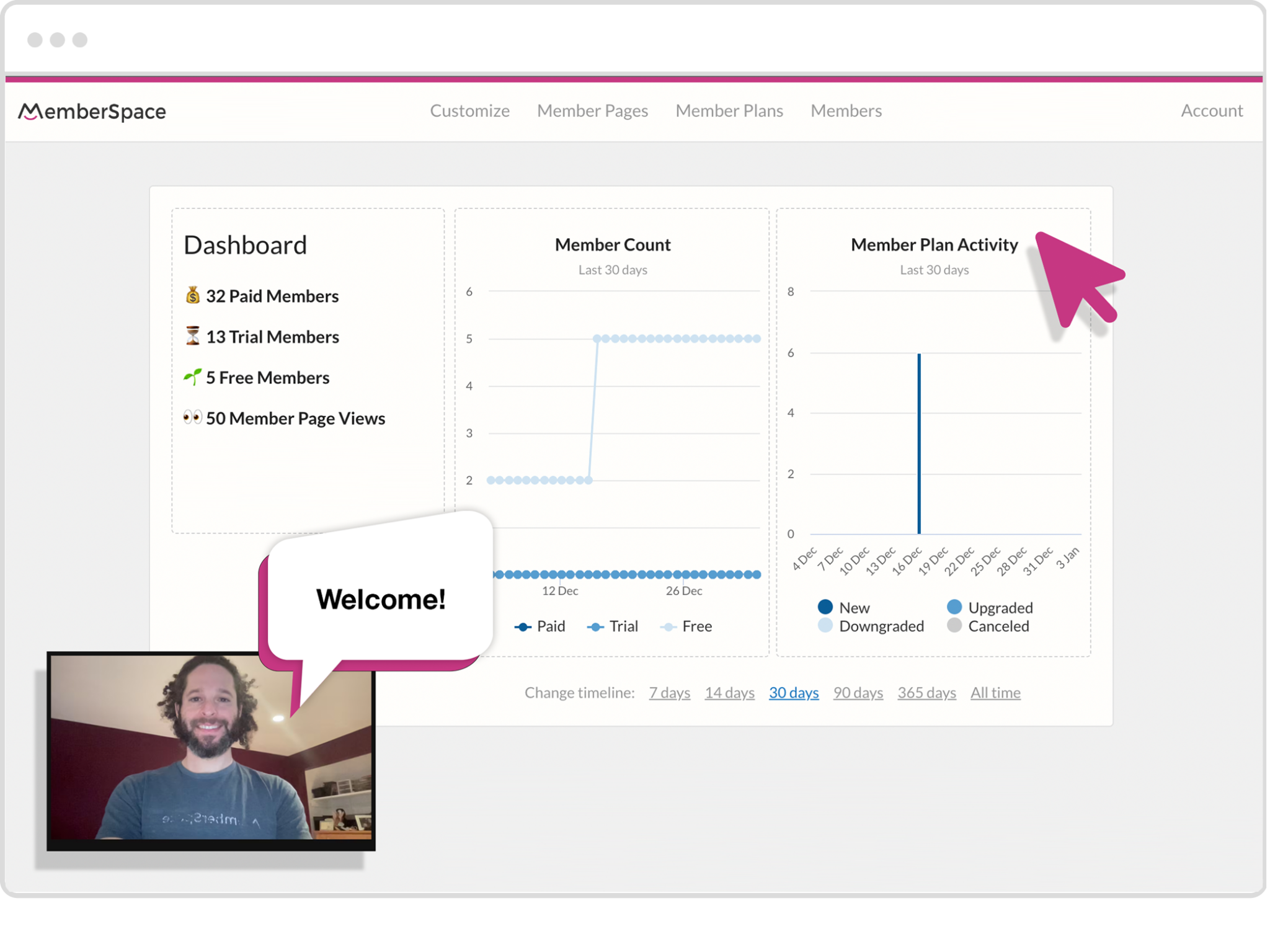 This is useful for generating qualified leads by requiring registration to attend the webinar. After the webinar, you can then follow up with the attendees to offer a free trial or another incentive to ultimately have them subscribe. Because you're taking the time to have a face-to-face interaction with potential customers, they're likely to trust that you care and are committed to their success — which results in signups from people who may not have given your product or service a shot otherwise.
Webinars can also be used to retain existing customers by providing exclusive content or training that is only available to subscribers. By using this time as an opportunity to scale customer support and address any common struggles your customers may be facing, you will encourage them to personally engage which is key to having them stick around longer.
A few popular platforms for hosting webinars include Zoom, GoToWebinar, and Webex. When choosing the right platform for your business, you should check to make sure you are able to record your webinars. That way, you can repurpose your live session recordings for later use such as on-demand webinars, podcasts, or video education. And even more, you can turn those recordings into additional income by creating an online course.
Need an example? Sign up for one of our free webinars. Learn how to to run a webinar while picking up a few tips on how to launch and grow your membership business.
2. Free plan
Offering a free plan can be a great way to attract new subscribers because this method asks very little of your website visitors. Instead of spending time contemplating whether or not they are ready to make a financial commitment, people are able to sign up immediately with very minimal information such as a name and email address. This is a useful way to allow potential subscribers to try out your product or service with no strings attached.
Many businesses refer to their free plan as a "freemium" option. This is a combination of "free" and "premium" which means customers receive basic features at no cost. However, if they start looking to use more in-depth and advanced functionality, they'll be encouraged to upgrade to a paid tier that provides access to those tools. If your customers are regularly using and benefiting from your offering while on the free plan, they'll likely be just fine with paying for additional features. After all, most people would rather stay where they are than start over somewhere completely different.
Using a tool like MemberSpace makes it possible to create free plans that grant access to limited pages and/or content on your website. You get to choose exactly which pages and content are accessible and which are only available on a paid tier. And if a customer tries to access content to which they don't have access, they'll automatically be asked to upgrade. We'll touch more on this later.
3. Free trial
Similar to a free plan, a free trial allows potential subscribers to test out your product or service at no cost. However, instead of maintaining free access for an undetermined amount of time, users must begin paying once the limited free trial period ends. This ensures every customer who joins will soon begin paying for your product or service if they want to continue using it.
One important thing to keep in mind is that you want to clearly demonstrate the value of your offering during the trial period. If those who sign up for a free trial don't start benefiting from what you have to offer during that time, they're much less likely to continue on as a paying subscriber. They need to fully understand how (and be convinced that) your offering will help them before making a financial investment.
MemberSpace makes it possible to add a customized free trial period to any of your paid plans.
You can determine exactly how long customers should have free access before they're charged.
4. Freebies
Giving away freebies can be a practical way to entice prospective subscribers to sign up for your product or service. This can include ebooks, templates, advertising materials, stock images, or any other resources that are relevant to your industry. Just be sure to provide valuable content that people in your niche will actually want and use. For example, if your niche is fitness for busy moms, you could offer a free recipe download for a quick and healthy weeknight meal option.
One purpose of offering freebies is to generate new leads. You can offer a free download on your website, in an email, or anywhere else. The offer should link to a landing page where you ask the prospect to provide minimal contact information (e.g. email address) to access the free download. Once you have their contact info, you can start marketing to them on a regular basis.
Another way to use freebies to generate new customers is by only offering them to people who have signed up for your offering. While this free content will add value to your existing subscribers, it will also attract new signups. A simple way to go about this is alongside a free plan option. By asking people to join a free plan to access the freebie, you're not asking for a big commitment. However, you are converting more people into customers in hopes that they will eventually become a paying subscriber.
A great tool for making freebies exclusive to your customers is MemberSpace's Content Links feature. You can easily protect unlimited files such as images, pdfs, videos, and more. And you can also determine how you'd like the freebie to be accessed (i.e. download, popup, or embed).
5. Drip email campaign
Email is likely the most common and long-term proven digital marketing tactic. This trusted strategy is excellent for reaching out to existing and potential customers and can be used to send updates, give promotions, share helpful information, follow up with abandoned carts, foster customer relationships, and more.
Drip email campaigns are helpful for nurturing potential subscribers and keeping them engaged with your brand. The idea is to send a series of automated emails to a specific group of people based on their actions or behaviors. These emails can be used for a variety of purposes such as onboarding new subscribers, promoting a new product or feature, or re-engaging inactive subscribers.
One of the key benefits of drip email campaigns is that they allow you to send personalized and timely messages to your subscribers and/or prospects. For example, you can send an automated welcome email to new subscribers, a series of onboarding emails to help them get the most out of your product, or a re-engagement email to inactive subscribers encouraging them to come back.
Drip campaigns can also be used to segment your audience based on their actions and behaviors. For example, you can create a drip campaign specifically for free trial users, or for people who have abandoned their cart. This allows you to send timely, relevant, and personalized messages to different groups of people, increasing the chances of conversions.
To set up a drip email campaign, you'll need an email marketing tool such as Mailchimp, Constant Contact, or Drip. These tools typically offer pre-built drip campaign templates that you can customize to fit your brand and message.
Once you have created your drip campaign, you can track its performance using analytics to see how many people opened your emails, clicked on links, or converted. This can help you optimize your campaign for better results.
MemberSpace sends out a handful of automated emails on behalf of your business. This allows you to fulfill basic email communication needs without manually needing to send each email to each of your subscribers/members.
Learn how to send automated emails with MemberSpace →

MemberSpace also integrates with Zapier, making it possible for you to automatically add all of your members/subscribers to your email list or drip campaign in whichever email marketing platform you use.
6. Remarketing/retargeting
Remarketing/retargeting is a powerful way to reach people who have previously interacted with your brand but are not current customers. This can include people who have visited your website, signed up for a free trial, or even abandoned their cart. The main idea here is to engage people who have not yet subscribed. And by showing targeted ads to them, you can remind them of your product or service and encourage them to take action.
The reason this method is effective is that those whom you are targeting have already shown interest in what you have to offer. Therefore, they are highly qualified, meaning the chances of converting them into paying customers are higher than marketing to people who are hearing of your business for the first time and haven't actually shown any interest.
Various platforms such as Google Ads and Facebook Ads make it possible to retarget customers, allowing businesses to reach a large audience while honing in on specific demographics, interests, and behaviors. You can easily create targeted ads, select a specific audience, and set a budget for each remarketing campaign.
7. Upselling and cross-selling
Upselling and cross-selling are smart approaches to increase the lifetime value of a subscriber. Upselling involves encouraging a subscriber to upgrade to a higher-priced plan, while cross-selling involves encouraging a subscriber to add additional products or services.
A simple way to upsell is to make certain features or services only available on a higher-tier plan. For example, we mentioned above that a free plan is good for providing basic functionality or services to customers. However, if they want access to even more valuable content, features, services, etc., they need to upgrade to a paid plan. After joining the paid plan, they have access to more offerings than they did on the free one — but maybe they still don't have full access to everything you have to offer until they join the highest paid plan. By reserving certain aspects for certain tiers, you encourage customers to upgrade to gain more value from your business.
Upselling can be accomplished automatically with MemberSpace. When a customer attempts to access content that's not available on their current plan, they'll be prompted to join a plan that does grant access.
And because you can create unlimited free or paid plans, you'll be able to create as many different tiers as needed.
With cross-selling, you can simply offer additional products or services that complement customers' existing subscriptions. For example, maybe someone is subscribed to receiving weekly meal plans and recipes. An extra piece of content that could be beneficial is a curated grocery shopping list that includes every ingredient the subscriber will need for the upcoming week's meals. You could encourage the subscriber to add on that extra benefit to their existing subscription which will ultimately enhance their experience and increase the value of that customer. 
8. Partnership
Partnering with non-competitors who share the same target market can be a great way to reach new subscribers. A partnership is a mutually beneficial agreement between two or more businesses or organizations in which they work together to achieve common goals. These goals can include increasing brand awareness, reaching new customers, or even generating revenue.
When looking for potential partners, it's important to consider businesses or organizations that share the same target market as your subscription business but do not directly compete with you. For example, if you run a subscription for pet grooming services, you might partner with a pet food company or pet training service.
A few examples of ways to form a partnership include:
Collaborating on a webinar or online event
Co-hosting an in-person event
Offering a bundled package of your services or products
Guest blogging or podcasting on each other's websites
Creating a referral program where partners can refer their customers to your service in exchange for a commission
Partnerships can have a positive impact on your business, especially if your chosen partner has a large and engaged customer base. They are also helpful in building trust with potential customers as they can see that you are working with other reputable businesses in your industry.
9. Paid advertising
Paid advertising is a method where businesses pay to display ads on various platforms such as Google, social media, and websites. The goal of paid advertising is to increase brand awareness, generate leads, and drive sales by reaching a larger audience and targeting specific demographics, interests, and behaviors.
Various platforms such as Google AdWords, Facebook Ads, and Twitter Ads are popular sources of paid advertisement. They allow businesses to create and display ads, set budgets, and track performance metrics such as click-through rates and conversion rates.
Paid advertising can be an effective way to reach a larger audience quickly. Because you're able to target a very specific and niche audience, it's a proven way to generate qualified leads and drive sales. Additionally, you can determine your ad spend budget as well as easily keep track of how the money you spend is making an impact. You're able to tell how much you're spending to attract new prospects, gain customers, and more.
10. Create an affiliate program
Creating an affiliate program is another effective way to acquire new customers. Encourage current customers to refer their friends and family to your service by offering incentives such as discounts or a free month of your product or service. The goal here is to acquire new customers through word-of-mouth recommendations from existing customers.
This type of marketing works because it relies on the trust and credibility of existing customers, which can make it more likely for new customers to trust your business and make a purchase. Additionally, it can be a cost-effective way to grow your customer base as it doesn't require a significant marketing budget. Your existing customers take care of the advertising for you. Although, it's smart to assist them with this.
When asking your customers to refer your business, you should set them up for success with the right resources. By providing tools like ideas and examples, written copy they can use, and product/service images, you'll make it easier for them to share about your businesses. And if it's easy to share, more customers will likely do so.
You can easily create an affiliate program with MemberSpace as it directly integrates with Rewardful to provide this functionality.
MemberSpace also offers their own affiliate program where their affiliates earn 25% recurring commission for each referred customer. They also set their affiliates up for success by providing various tools and educational materials such as promotional ideas and product resources.
Earn passive income as a MemberSpace affiliate →
11. Create a community
Starting a community around your subscription business is a proven way to engage with potential subscribers and keep current customers engaged. The community should include a group of individuals who share a common interest or passion and come together to interact, share information, and support each other. A few examples of ways you can create a community include starting a private Facebook group, hosting an online forum, and organizing in-person events.
By inviting non-customers to join a community, you're providing the opportunity for them to learn more about your business from yourself as well as from your loyal customers. Having a mix of customers and non-customers is helpful because your current subscribers can advocate for you. When those who haven't signed up see how others are benefiting from what you have to offer, they'll likely be open to trying it themselves.
Building a community adds value to your current subscribers as it allows you to connect with your customers on a deeper level, build relationships, and foster a sense of community. If your subscribers have a space where they can interact with and learn from you and other successful customers, there's a greater chance they'll stick around longer, reducing churn.
One great option for creating an exclusive community for your subscribers is using MemberSpace's integration with Circle. Easily protect the group so it's not available to the public and automatically grant access when someone joins your subscription.